KETCHUP CAN BE HEALTHY TOO
FRESH PLAZA
With offices in the UK, Brazil and Australia, Coppola Food is a company with a history spanning over 100 years and specializing mainly in the processing of tomato derivatives. 98% of the turnover is made on the foreign market with destinations in over 40 countries, mainly big distribution chains and the H&R sector.
The brand includes a wide range of products from the Mediterranean tradition such as tomato, pulse and vegetable sauces, ready sauces - also available as single-portions - and 100% vegan soups with functional ingredients, sugar free and without added sweeteners in plastic free packaging. The products are sold under its own brand (they used to be sold as private labels).
For four generations, the Coppola family has grown and preserved tomatoes from Agro Nocerino Sarnese (Campania - Italy). The company was established in 1903 and has now become Coppola Foods. The founder, Gerardo Coppola, set up a food trade service at Mercato San Severino (SA). In 1952, his son Ernesto started commercializing San Marzano tomatoes on an industrial scale, also for the foreign markets.
"We aim at developing, producing and putting on the market tasty and healthy foods grown and processed sustainably. Our consumers look for free-from products that have no sugar or artificial additives. This international trend is becoming more and more popular in Italy as well," reports Ernesto Coppola, CEO of Coppola Foods.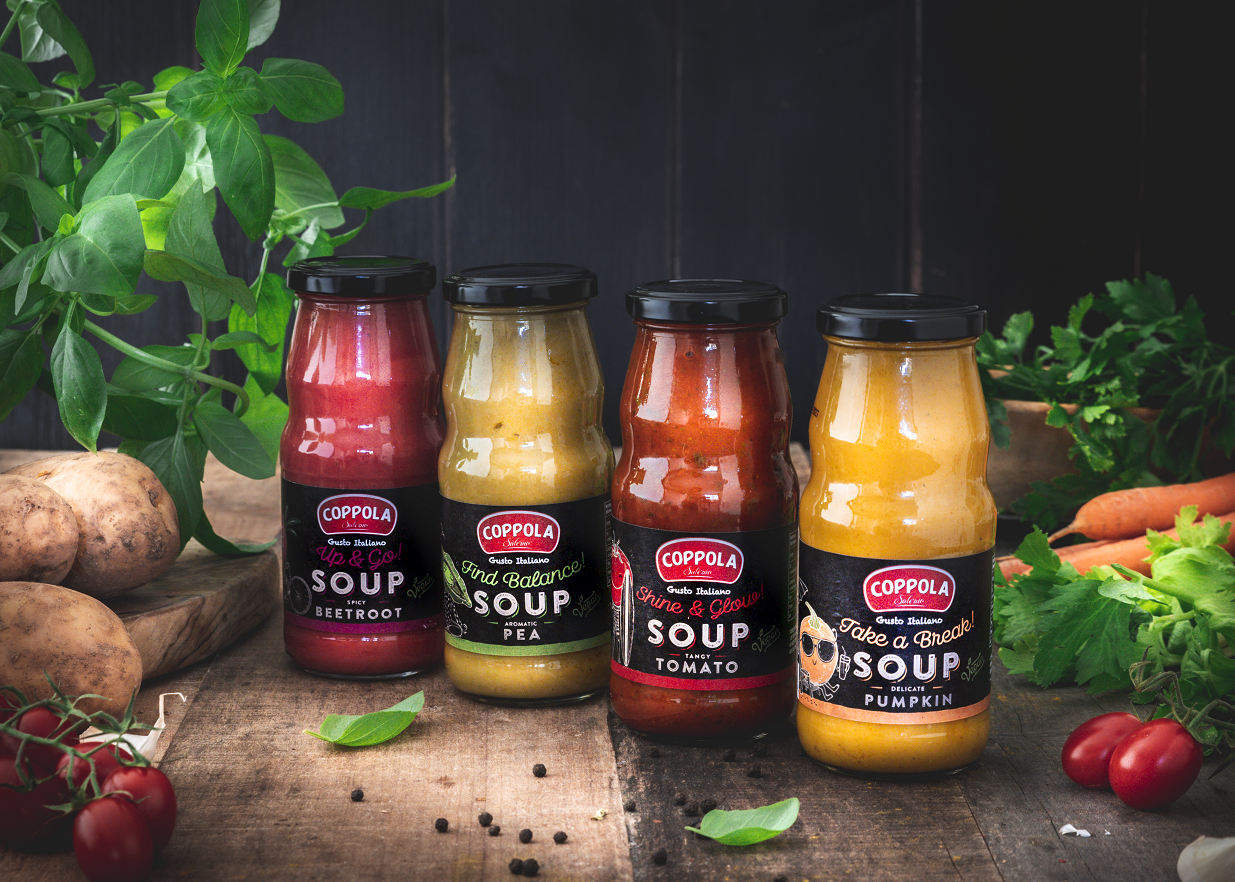 "We invest in innovation. In addition to the classic tomato and ready sauce line available in 7 versions from the Mediterranean tradition, we also have a series of healthy products, including our award-winning chocolate and hazelnut spread and organic Ketchup, which has won the Great Taste Awards".
"Without added sugars, our ketchup is made with organic tomato sauce from 15 tomatoes, to which we add 3 apples for sweetness. The result is a healthy product with 43% less sugar than similar products."
The tomato sauce line with no added sugar also includes seven gluten-free sauces also available as single portions.
"Fabalous, the first organic chocolate spread with chickpea paste as its first ingredient, is a real treat. It contains 57% less sugar and 81% more protein compared to the main hazelnut and cocoa spreads available. It is a healthy innovative product, which was awarded at the Food Matters Live in London in 2020."
Coppola Foods conquered considerable market shares in south-east Europe and South America as well, especially where the middle class is adopting western eating habits focusing on the consumption of functional foods. The international presence and ability to innovate are the cornerstones of the company which, in 2019, came in sixth in among the "Leading in Growth" classification ranking 350 businesses drafted by newspaper "Il Sole 24 Ore", in collaboration with Statista.
For further information, images, or samples please contact
Federica Bolognese
email: info@coppolafoods.com
twitter: @coppolafoods
website: www.coppolafoods.com
About Coppola Foods
Coppola Foods is an innovative food company committed to making good food better.
We offer a comprehensive range of premium quality, tasty, nutritious and sustainable food products together with an excellent level of service and attentive solutions to fulfil the needs of customers and markets.
Our range of authentic Italian food products are cornerstones of the Mediterranean diet. This includes tomatoes, legumes, vegetable products, sauces, condiments and grain products.
We are a fourth-generation family business with a long heritage in the production and marketing of food products, dating back to 1903 in Salerno, in Southern Italy.