THE FONTANA FORMIELLO RISOTTO RANGE IS SHELF-STABLE
TRENDHUNTER - JANUARY 2019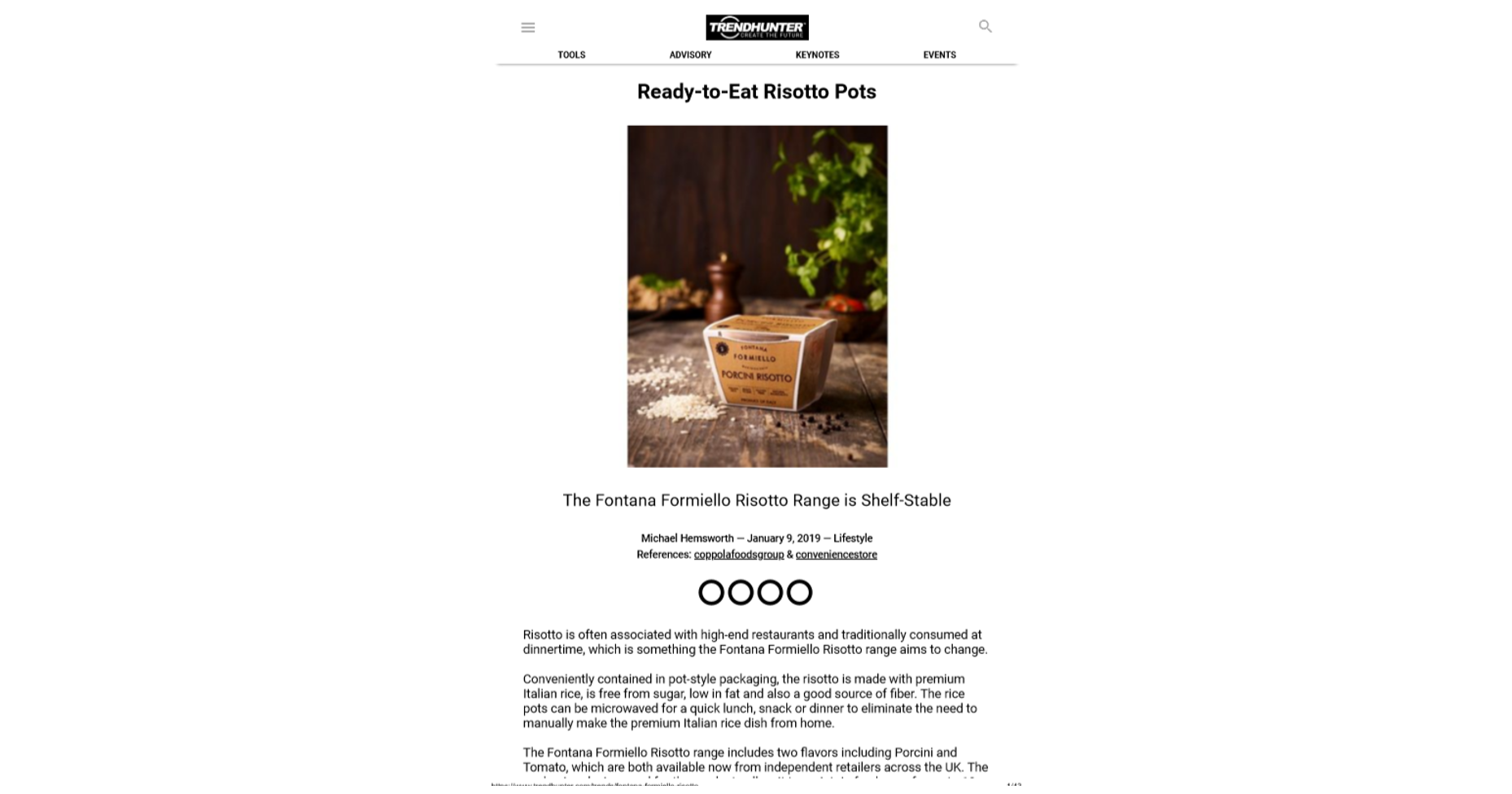 Risotto is often associated with high-end restaurants and traditionally consumed at dinnertime, which is something the Fontana Formiello Risotto range aims to change.
Conveniently contained in pot-style packaging, the risotto is made with premium Italian rice, is free from sugar, low in fat and also a good source of ber. The rice pots can be microwaved for a quick lunch, snack or dinner to eliminate the need to manually make the premium Italian rice dish from home.
The Fontana Formiello Risotto range includes two avors including Porcini and Tomato, which are both available now from independent retailers across the UK. The packaging design used for the products allow it to maintain freshness for up to 18 months on the shelf for enhanced convenience for shoppers to appreciate.
For further information, images, or samples please contact
Federica Bolognese
email: info@coppolafoods.com
twitter: @coppolafoods
website: www.coppolafoods.com
About Coppola Foods
Coppola Foods is an innovative food company committed to making good food better.
We offer a comprehensive range of premium quality, tasty, nutritious and sustainable food products together with an excellent level of service and attentive solutions to fulfil the needs of customers and markets.
Our range of authentic Italian food products are cornerstones of the Mediterranean diet. This includes tomatoes, legumes, vegetable products, sauces, condiments and grain products.
We are a fourth-generation family business with a long heritage in the production and marketing of food products, dating back to 1903 in Salerno, in Southern Italy.