12 PRODUCTS TO LEVEL UP ANY PANCAKE (OR WAFFLE)
CONSOMMÉ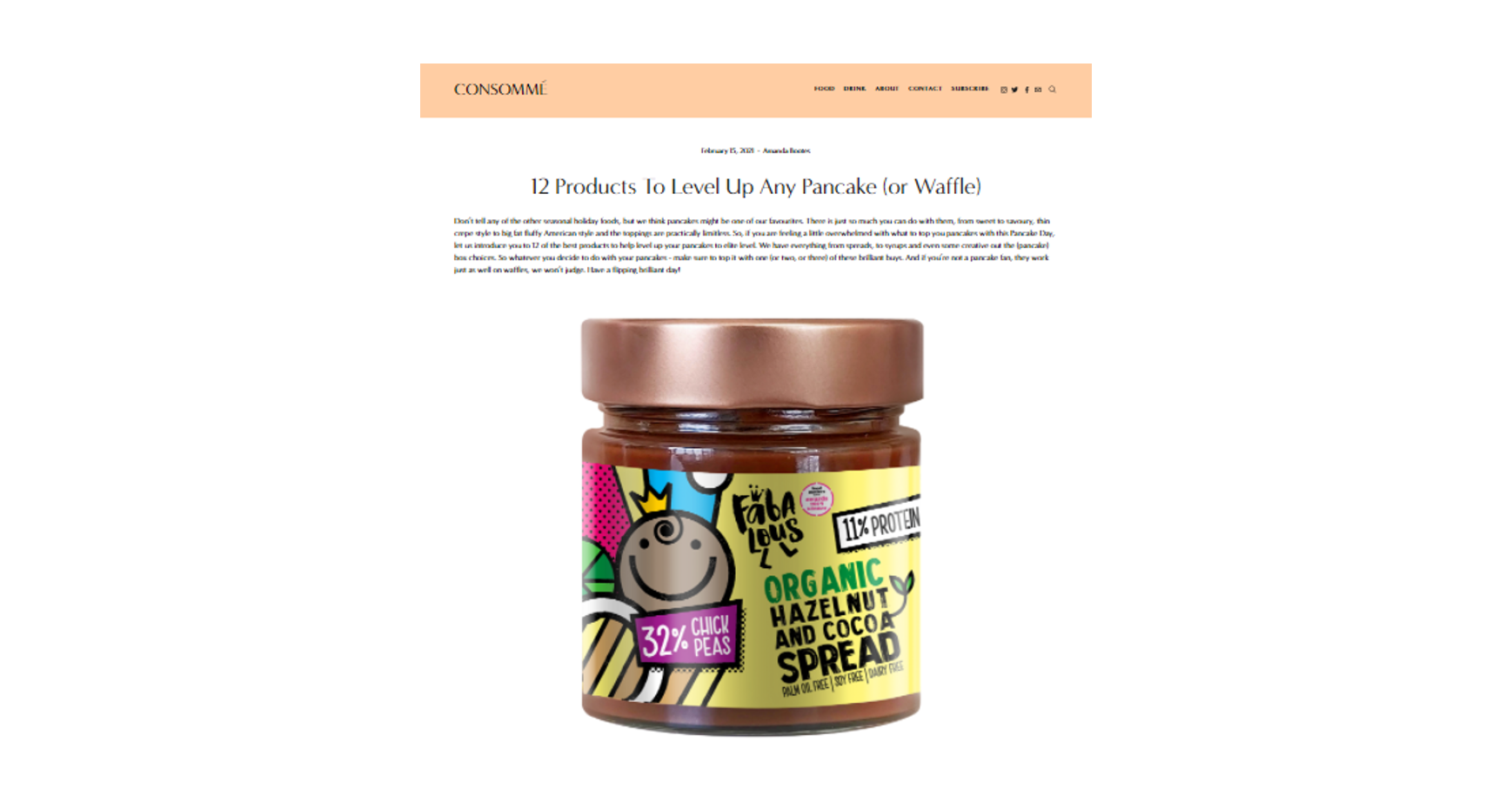 Don't tell any of the other seasonal holiday foods, but we think pancakes might be one ofour favourites. There is just so much you can do with them, from sweet to savoury, thincrepe style to big fat fluffy American style and the toppings are practically limitless. So, ifyou are feeling a little overwhelmed with what to top you pancakes with this PancakeDay, let us introduce you to 12 of the best products to help level up your pancakes toelite level. We have everything from spreads, to syrups and even some creative out the(pancake) box choices. So whatever you decide to do with your pancakes - make sure totop it with one (or two, or three) of these brilliant buys. And if you're not a pancake fan,they work just as well on waffles, we won't judge. Have a flipping brilliant day!
Made by The Wilkin Family which have been farming at Tiptree in Essex since 1757 and making quality preserves since 1855 have come out with all of the top choices for your pancakes. This Salted Caramel (£2.49, Tiptree) is like spreading a little (or a lot) of happiness on your pancakes. Made with just a touch of Maldon Sea Salt this thick and delicious spread is the perfect topper for all kinds of flavour combinations. We love it with sliced bananas and whipped cream.
Rowse ChocoBee
New to the scene, this brand-new ChocoBee (£2, Asda) chocolate spread literally only contains two ingredients: 100% natural honey and UTZ-certified sustainable cocoa and the result - a delicious game-changing spread that is the perfect combination and is wonderful spread across fluffy pancakes or drizzled ontop of crepes. We love how natural this product, by Rowse is making it the best choice for the whole family. We love this one with sliced strawberries and chopped nuts.
Sweetpea Pantry Protein Pancake Mixes
Sweetpea Pantry are a staple in our kitchen, their super simple mixes are perfect to keep in your cupboard for when you just can't be bothered to cook from scratch, and they have just launched these deeeelicious pancake mixes that are all vegan, low in sugar, gluten-free and high in protein. Coming in three flavours the Stacks of Goodness Range (£4.99, Stacks of Goodness) comes in Strawberry, Double Chocolate and Vanilla and Blueberry - so whatever flavour takes your fancy, you know you have an incredible pancake base to top with the toppings of your dreams. Our favourite is the Strawberry which we top with fresh berries, coconut yogurt and a drizzle of maple syrup!
Skippy Choc Chip Swirl Peanut Butter
We are kind of a bit of a nut-butter connoisseur here at Consommé and this brand-new product from Skippy, which has just launched in Morrisons (£2.65) takes all the best things about a proper thick and decadent peanut butter and added in real chocolate chips for that perfect spread every time. With partly melted pieces this sweet treat is a nut above the rest! We love Skippy's Choc Chip Swirl paired with crushed digestive biscuits and cream cheese. For a pancake take on a classic New Yorker style cheesecake.
YaconViva! Organic Yacon Syrup
Following the recent love given from Zac Efron and Darin Olien in Netflix's Down to Earth, we had to get our hands on this incredible syrup which is grown in the Andean mountains of Peru - with a condensed sweet and sticky taste similar to that of molasses, you'll be surprised that it actually only has a low Glycemic Index as well as being rich in fibre and being highly prebiotic. It's a product (£9.99, YaconViva)that tastes as good as the good it does for your body. It's one of Nature's sweet little miracles and we love it drizzled on top of chunks of caramelised apples and a good sprinkling of cinnamon.
Tiptree Lemon Curd
Tiptree do preserves so well, we had to include another one of their lip-smacking products. Their Lemon Curd (£2.49, Tiptree) is as bright and beautiful to look at, as it is to eat. It's thick and glossy and packed full of tangy lemon flavour with a buttery finish on the palate. Amazing slathered on-top of thick fluffy pancakes to match its fluffy texture, but even better when topped with white chocolate chips or chunks!
Creative Nature + Joe & Seph's Pancake Day Ultimate Kit
We couldn't have been more excited when we saw this partnership - we are huge advocates for both brands and we couldn't think of anything better to create the ultimate pancakes with. Following Creative Nature's ethos, the kit features an easy-to-use, fluffy pancake and waffle mix that is free from the top 14 allergens and comes complete with Joe & Seph's best-selling salted caramel and chocolate sauces which are so decadent you can literally just eat them out of the jar (we do) and is perfectly packaged (£20, Joe & Sephs) with a bamboo spatula. Want to get even more creative? Top your pancakes with Creative Nature's Cheeky Choc Hazelnut Gnawbles or Joe & Seph's Salted Caramel popcorn for some added crunch and texture and a whole dish of goodness.
Fabalous Choc-Hazelnut Spread
This vegan 2-star Great Taste Award Winning Hazelnut and Cocoa Spread from Fabalous (£4.99, Amazon) is like the best ever version of a healthy Nutella you will ever taste and it's funky contemporary packaging makes it a complete joy for the whole family. Made by combining organic hazelnuts with cocoa and their secret ingredient - chickpeas. It has a super premium chocolatey flavour that is thick and silky and a nutty aftertaste that is begging to be double-dipped. Layer with extra toasted hazelnuts and raspberries for a delicious stack.
STARLINO Maraschino Cherries
These plump, de-stone cherries by Hotel STARLINO (£9.98, Amazon) are preserved in an incredible Marasca Syrup - but don't worry, they are non-alcoholic so the whole family can get stuck in. Each cherry is matured for 15 days in syrup before resting for an additional seven days to reach perfection and resulting in an all-natural, luxury cherry that is as delightfully sweet as it is tart. Toast flaked almonds and sprinkle on top for a pancake version of a Bakewell tart that is oh-so-moorish and extra lavish.