MADE IN ITALY, ANCHE "COPPOLA FOODS" A MOSCA A SOSTEGNO DEL VERO CIBO ITALIANO
IRNO NEWS - JANUARY 2013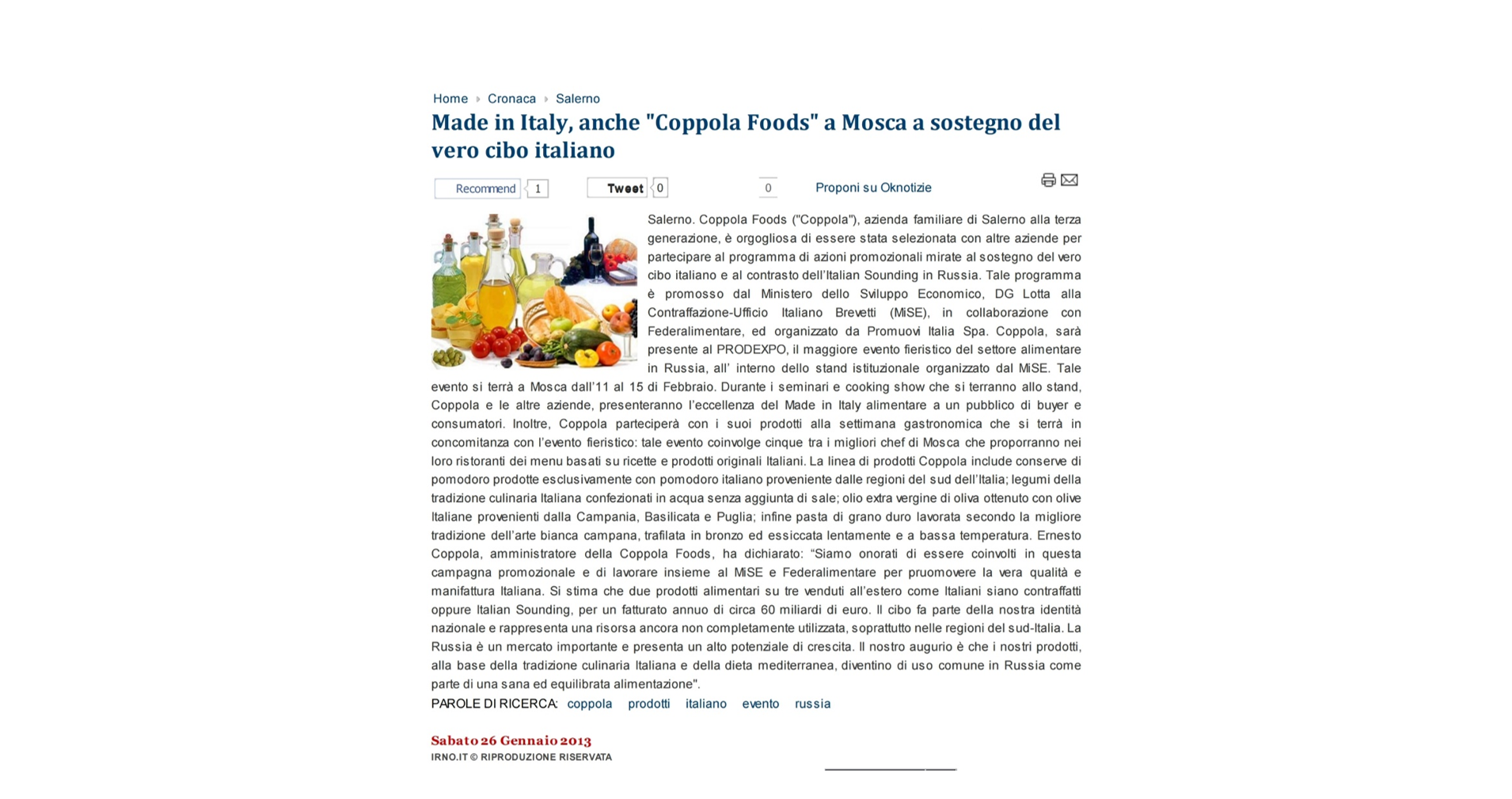 Coppola Foods ("Coppola"), azienda familiare di Salerno alla terza generazione, è orgogliosa di essere stata selezionata con altre aziende per partecipare al programma di azioni promozionali mirate al sostegno del verocibo italiano e al contrasto dell'Italian Sounding in Russia.
Tale programma è promosso dal Ministero dello Sviluppo Economico, DG Lotta allaContraffazione-Ufficio Italiano Brevetti (MiSE), in collaborazione conFederalimentare, ed organizzato da Promuovi Italia Spa. Coppola, saràpresente al PRODEXPO, il maggiore evento fieristico del settore alimentarein Russia, all' interno dello stand istituzionale organizzato dal MiSE.
Tale evento si terrà a Mosca dall'11 al 15 di Febbraio. Durante i seminari e cooking show che si terranno allo stand, Coppola e le altre aziende, presenteranno l'eccellenza del Made in Italy alimentare a un pubblico di buyer econsumatori. Inoltre, Coppola parteciperà con i suoi prodotti alla settimana gastronomica che si terrà inconcomitanza con l'evento fieristico: tale evento coinvolge cinque tra i migliori chef di Mosca che proporranno nei loro ristoranti dei menu basati su ricette e prodotti originali Italiani.
La linea di prodotti Coppola include conserve di pomodoro prodotte esclusivamente con pomodoro italiano proveniente dalle regioni del sud dell'Italia; legumi della tradizione culinaria Italiana confezionati in acqua senza aggiunta di sale; olio extra vergine di oliva ottenuto con olive Italiane provenienti dalla Campania, Basilicata e Puglia; infine pasta di grano duro lavorata secondo la migliore tradizione dell'arte bianca campana, trafilata in bronzo ed essiccata lentamente e a bassa temperatura. Ernesto Coppola, amministratore della Coppola Foods, ha dichiarato: "Siamo onorati di essere coinvolti in questa campagna promozionale e di lavorare insieme al MiSE e Federalimentare per pruomovere la vera qualità emanifattura Italiana. Si stima che due prodotti alimentari su tre venduti all'estero come Italiani siano contraffatti oppure Italian Sounding, per un fatturato annuo di circa 60 miliardi di euro. Il cibo fa parte della nostra identità nazionale e rappresenta una risorsa ancora non completamente utilizzata, soprattutto nelle regioni del sud-Italia. La Russia è un mercato importante e presenta un alto potenziale di crescita. Il nostro augurio è che i nostri prodotti, alla base della tradizione culinaria Italiana e della dieta mediterranea, diventino di uso comune in Russia come parte di una sana ed equilibrata alimentazione".
For further information, images, or samples please contact
email: info@coppolafoods.com
twitter: @coppolafoods
website: www.coppolafoods.com
About Coppola Foods
Coppola Foods is an innovative food company committed to making good food better.
We offer a comprehensive range of premium quality, tasty, nutritious and sustainable food products together with an excellent level of service and attentive solutions to fulfil the needs of customers and markets.
Our range of authentic Italian food products are cornerstones of the Mediterranean diet. This includes tomatoes, legumes, vegetable products, sauces, condiments and grain products.
We are a fourth-generation family business with a long heritage in the production and marketing of food products, dating back to 1903 in Salerno, in Southern Italy.