WHAT WE'RE READING: COPPOLA FOODS, MUTTI KETCHUP, FENNEL SALAD RECIPE, VEAL SAUCE RECIPE, AGLIO, OLIO E PEPERONCINO
SCORDO.COM - JANUARY 2013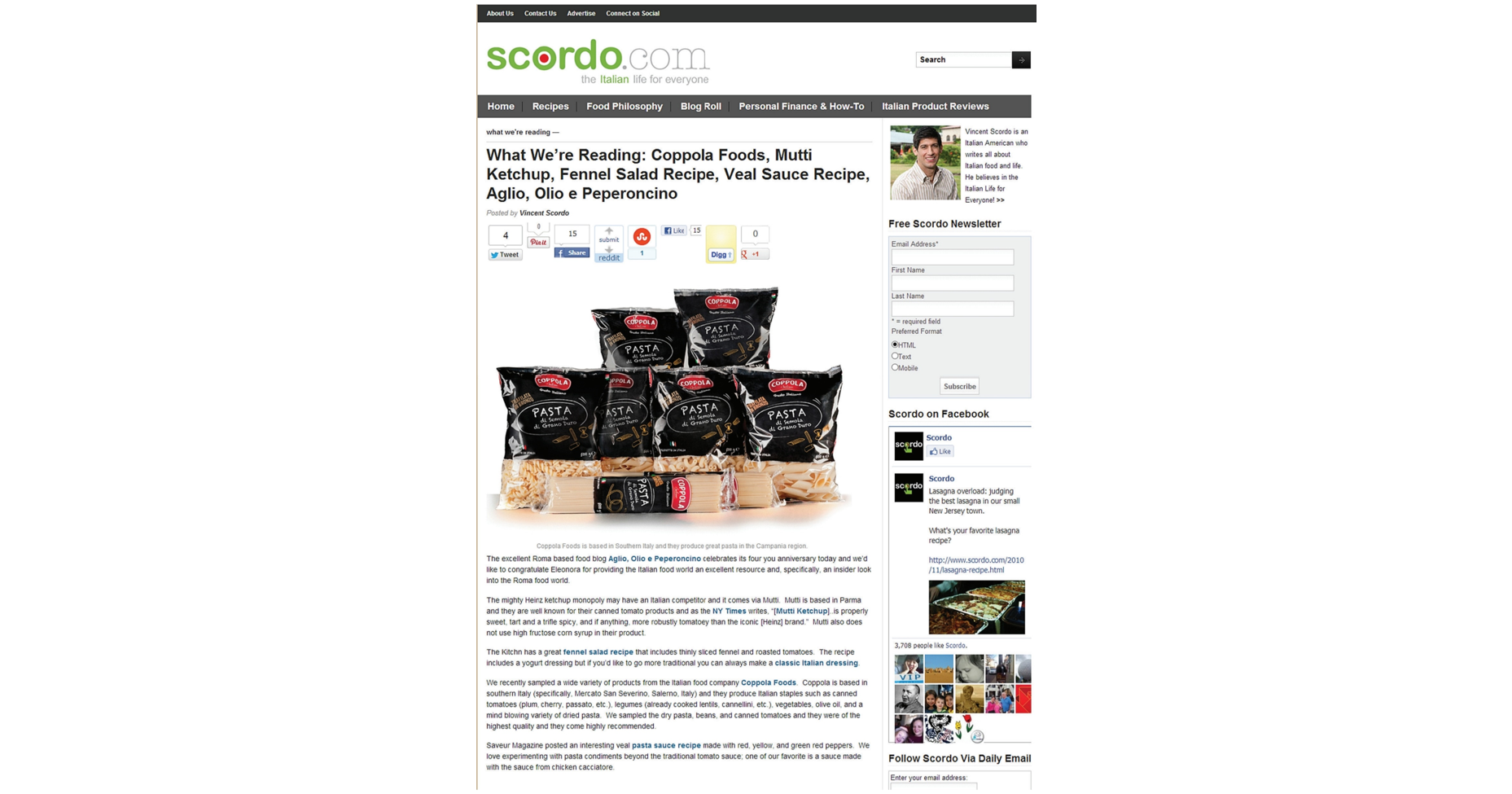 The excellent Roma base food blog Aglio, Olio e Peperoncino celebrates its four year anniversary today and we'd like to congratulate Eleonora for providing the Italian food world an excellent resource and, specifically, an insider look into the Roma food world.
The mighty Heinz ketchup monopoly may have an Italian competitor and dit comes via Mutti. Mutti is based in Roma and they are well known for their canned tomato products and as the NY Times writes, "Mutti Ketchup... is properly sweet, tart and a trifle spicy, and if anything, more robustly than the iconic brand". Mutti also does not use hight fructose corn syrup in their product.
The Kitchen has a great fennel salad recipe thagt includes thinly sliced fennel and roasted tomatoes. The recipe includes a yogurt dressing but if you'd like to go more tradicional you can always make a classic Italian dressing.
We recently sampled a wide variety of products from the Italian food company Coppola Foods. Coppola is based in southern Italy (specifically, Mercato San Severino, Salerno, Italy) and they produce Italian staples such as canned tomatoes (plum, cherry, passat, etc.), legumes (already cooked lentils, cannellini, etc.), vegetables, olive oil, and a mind blowing variety of dried pasta. We sampled the dry pasta, beans, and canned tomatoes and they were of the highest quality and they come highly recommended.
Saveur Magazine posted an interesting veal pasta sauce recipe made with red, yellow and green red peppers. We love experimenting with pasta condiments beyond the traditional tomato sauce; one of our favourite is a sauce made with the sauce from chicken cacciatore.
For further information, images, or samples please contact
email: info@coppolafoods.com
twitter: @coppolafoods
website: www.coppolafoods.com
About Coppola Foods
Coppola Foods is an innovative food company committed to making good food better.
We offer a comprehensive range of premium quality, tasty, nutritious and sustainable food products together with an excellent level of service and attentive solutions to fulfil the needs of customers and markets.
Our range of authentic Italian food products are cornerstones of the Mediterranean diet. This includes tomatoes, legumes, vegetable products, sauces, condiments and grain products.
We are a fourth-generation family business with a long heritage in the production and marketing of food products, dating back to 1903 in Salerno, in Southern Italy.